Most bloggers and webmasters feel overwhelmed when it comes to selecting the right theme for their WordPress-based website. Every theme looks better than the other. So, how do you choose the best theme that suits your need? How do you choose the theme that ranks you higher on search engine result pages?
In this article, I will outline each and everything that will help you find the right theme for your website.
The Importance of Selecting the Right WordPress Theme
It is very important that you choose the right theme for your website. The success of your website relies very much on the layout, look and feel and features of your website. The selection of the right theme is important for:
Search Engine Optimization (SEO)
Search Engine Visibility
User Engagement
Customisation
Things to consider when choosing WordPress frameworks:
Pricing– Is it affordable?
Functionality– Does the frame have the functionality that will suit your needs?
Visuals (UI, UX)– Is it beautiful, simple, sober, attractive, easy to navigate and neat and clean?
Dashboard Interface– How intuitive dashboard is?
Search Engine Optimisation– Is the theme SEO-friendly?
Responsive Design– Is it Responsive in design?
Browser Compatibility– Is it compatible with old and modern browsers?
Social Media – Is it having Social media integration features?
Scalability
Framework and theme size
Child Theme– A number of the available child theme.
Translation– How easily the page can be translated into other languages?
Documentation– Documentation and manuals
Tutorials– Tutorials in form of Articles and Videos
Support – Technical Support, Forum and community, Support level Forums
Refund Policy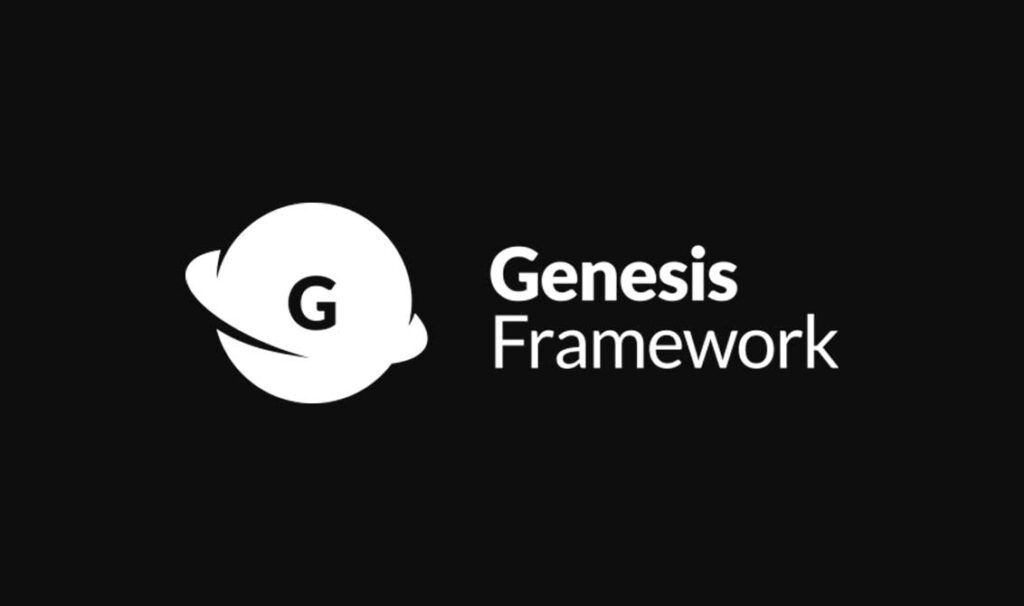 StudioPress Genesis framework is the most loved framework amongst WordPress developers and designers. Whether you're a novice or an experienced developer, you can start using and developing child themes using the StudioPress Genesis Framework.
It is built upon a solid foundation and the codebase is provided by Genesis Framework and probably the most well-known theme framework for WordPress.
It has a basic layout and design that can be enhanced by using child themes.
Child themes that are built specifically for the Genesis Framework can be used alongside this framework. However, you are allowed to create child themes for the Genesis Framework and use it for your website. Many developers are already made their fortune by creating a commercial child theme for StudioPress.
Why Should You Choose the StudioPress Genesis Framework?
The Genesis Framework empowers you to quickly build some world-class websites with ease. It shortens your development time and gives you a neat and clean code for your website. Here is a list of some cool features of StudioPress Genesis Framework.
Website loading time is fast
Extra emphasis on security
It is fully responsive
Rock-Solid Security
Blazing Fast Performance
Access to the search engine optimised Genesis Framework codebase
Unlimited updates, unlimited support, unlimited websites.
Fast and easy customization
Widget and layout option
Instant updates
Why Genesis is the Foundation of Any Smart WordPress Design
StudioPress Genesis Framework Updates, Customer Support & Forums
When choosing a framework, it is super important to have reliable customers support, forums and updates. StudioPress provides you with all you all the support that you need.
Unlimited Updates
Many websites get hacked just because they are not updated. But as I discussed earlier, StudioPress Genesis Framework has rock-solid security. They maintain this by providing free unlimited updates by getting rid of vulnerabilities.
Unlimited Support
Once you purchase the StudioPress Genesis Framework License, you instantly get access to the dedicated support system. There are several professional developers, who will know the Genesis framework inside and out.
Membership Forum
You also get access to the membership forum. Where you can look for help in the forum by browsing the issue. You can also hire professional developers and you can ask them to develop or customise themes as per your need.
The forum has the following categories:
General Discussion
Design Tips and Tricks
Showcases and feedbacks
Forum Bugs and Suggestions
Internationalisation and translations
Who Uses StudioPress Genesis Framework?
StudioPress is used among top bloggers and marketers. The StudioPress Genesis Framework is used by blogs like:
CopyBlogger
Quick Sprout
ShoutMeLoud
1stWebDesigner
After Purchase
Once you purchase the StudioPress Genesis Framework, you get access to the community and documentation section. Where you get PDF guides, text tutorials, code snippets etc.
You get access to the following sections:
eBook
"A Beginner's Guide To The Genesis Framework".
Text Tutorials
Text tutorials cover topics like Genesis Documentation, column classes, Google fonts, website navigation menu and images etc.
More than 50 tutorials written by StudioPress community members.
Top question section, where you will find the most popular questions and answers related to StudioPress.
Developer Resources
You will get access to the following resources:
Code snippets of Admin Management, Author Box, Breadcrumbs, Comments, Entry Content, Entry Footer, Entry Header, Footer, Head Section, Header, HTML5, Images, Navigation Menu, Post Excerpt, Post Formats, sidebars etc.
Mobile Responsive Design Testing Tool that will allow you to test the responsiveness of the web pages of your website. You can test your layout on different screen sizes – 240×320 (small phone), 320×480 (iPhone), 480×640 (small tablet), 768×1024 (iPad – Portrait), 1024×768 (iPad – Landscape).
WordPress plugins that will allow you to integrate WooCommerce, Social Icons etc.
Graphics and Icon set that include social media icons, banners, patterns, buttons and custom icons.
After taking everything in mind, it is very much clear that you will get all the support that you need to develop your theme and website. But you cannot expect StudioPress to develop your website by writing codes for your website. You will have to complete your website and theme on your own by taking the help of StudioPress.
If you are not a developer or designer and you know nothing about coding, then you don't have to worry. You can buy Genesis Framework child themes.
StudioPress presently has 50+ child themes for your need.
1. StudioPress Genesis Framework
Genesis Framework comes up with a basic layout. That you can use to get started with a simple yet effective blog.
The design and appearance of the website can be enhanced by using the child theme. The codebase for the child theme is provided by the Genesis Framework.
Characteristic Features of a typical StudioPress Genesis Framework Theme
HTML5 Design
Fully Responsive
Fast Website load time
Extra emphasis on security
No bloat from excessive built-in features
Minimal customization options for a more streamlined user experience
Search Engine Optimised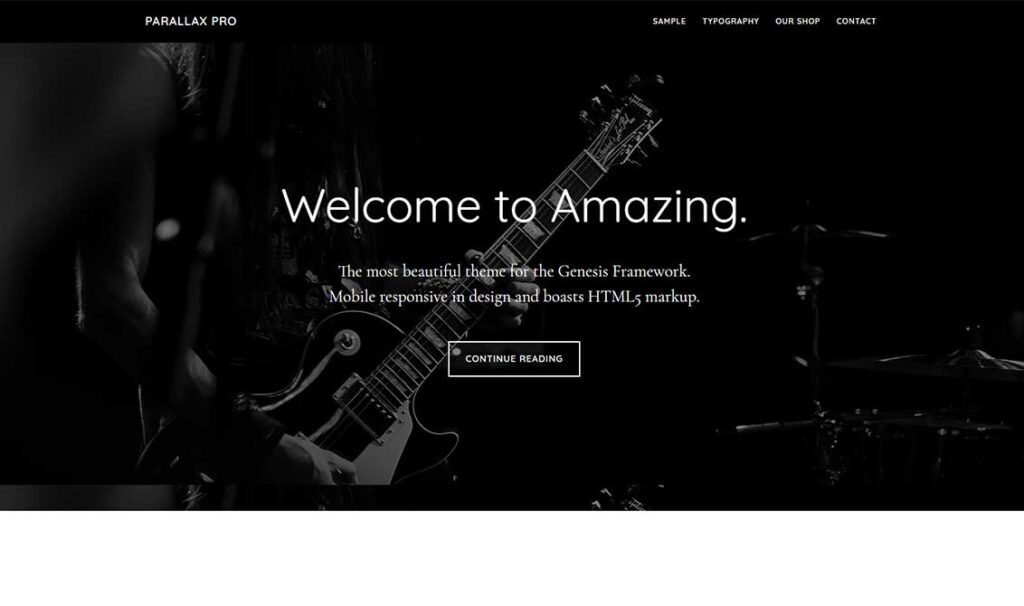 Parallax Pro is an awesome parallax WordPress theme. The idea behind the Parallax Pro theme is to provide a minimal layout with a stylish design. Apart from unique text and image backgrounds, it has a lot of features to offer.
Key Features Of Parallax Pro Theme
Custom header
Five different colour options
Several typography options (blockquotes, ordered lists, and unordered lists)
Six colour options available for the content box
Specific page layout options for a wide range of pages, i.e. author, landing, category pages
Threaded comments
Multiple heading sizes and options
Fully customizable background
Various theme options
Some Of The Other Powerful Features Of the Parallax Pro theme
HTML5 Markup
100% mobile friendly
Cross-browser compatibility
Fully customizable footer section
Unlimited updates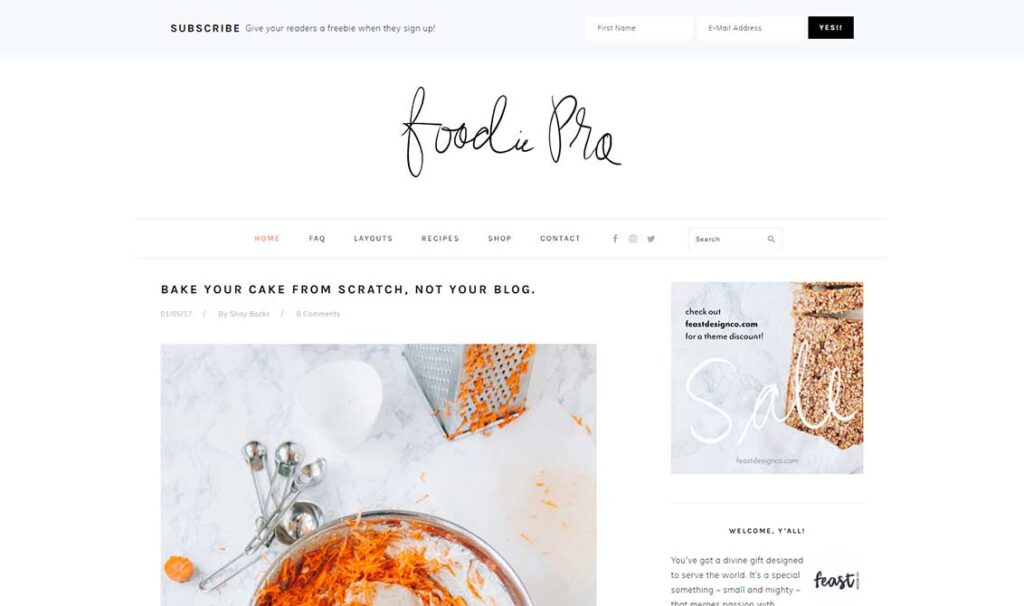 Foodie Pro Theme front page has several widget areas that allow you to display your content the way you want. There is a slider option on the homepage that you can use to display featured posts in a responsive slider. You can also display certain categories in the slider.
Key Features Of Foodie Pro Theme
Built-in Recipe Gallery Page
Custom retina-ready logo uploads feature
Built-in ad spaces
Built-in Widget Features
Visual Editor
Includes eNews widget and easy recipe
Mobile responsive
Style Mobile Menu
Some Other Powerful Features Of Foodie Pro Theme
HTML5 Markup
6 Layout Options and 3 Color Options.
Custom Header.
Featured Image.
Mobile Responsive Design.
Theme Options Panel Available.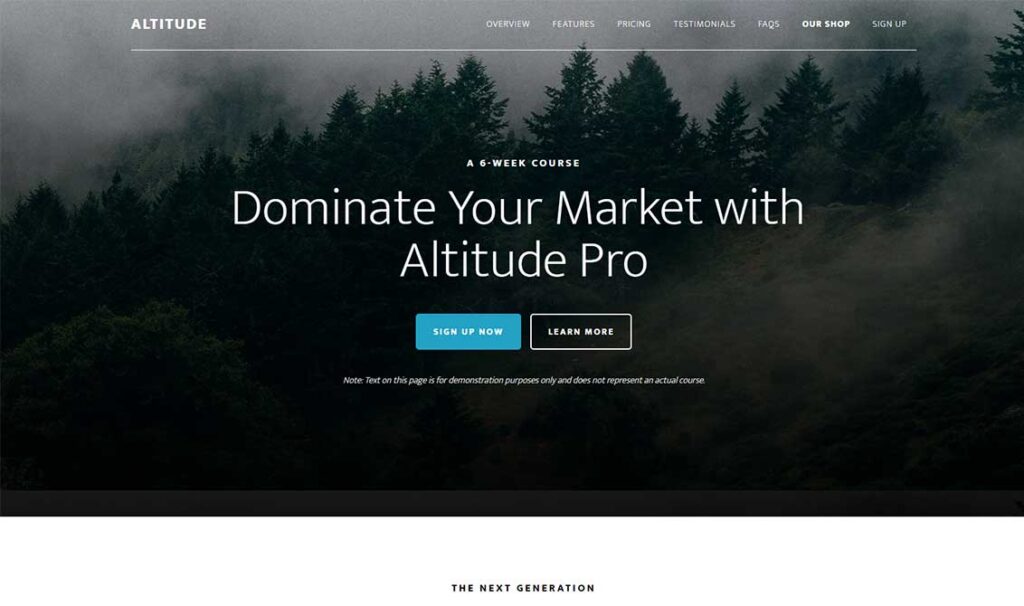 It is a modern theme that uses the power of parallax. It has several widget options that you can use to customise the homepage.
Key Features Of Altitude Pro Theme
HTML5 markup
Accent colour styling
Custom header logo
Theme options
Native theme customizer
Landing page template
Mobile responsive
Footer widget area
After the content widget area
It is not limited to these features only. The homepage is completely flexible. You can adjust the homepage the way you want. You have complete control to decide how many widgets to display on the homepage.
Some Of The Powerful Features Altitude Pro Theme
Genesis eNews Extended– to capture e-mails.
Simple Social Icons– to display social buttons to link social profiles.
Genesis Responsive Slider– it helps you to create seamless sliders.
Genesis Simple Share– beautiful and lightweight social sharing buttons.
Genesis Simple Edits– it helps in making quick changes for footer text and posts meta.
StudioPressGenesis framework has the power to take your WordPress blog to even greater heights.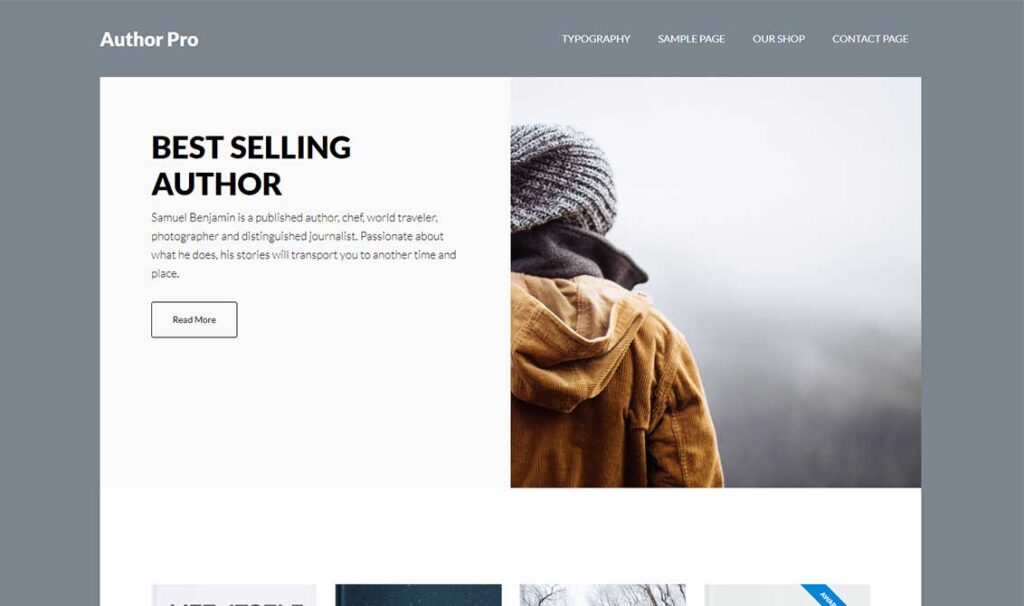 Author Pro Theme is specifically designed for the authors where they can showcase their work.
As an author, you need to showcase your work in front of the world and do lots of self-promotion and this theme provides features that help you to do all those work with ease.
You will be able to display publication-related information like pricing, ISBN codes, summary, book cover image and buy button. You have features that help you to announce your upcoming books and social events that you can share on various social channels.
Key Features Of Author Pro Theme
Book price
Featured text to highlight the book
The number of available editions
ISBN
Publish date
Custom buttons
Editor and publisher
Custom link
Some Other Awesome Feature Of Author Pro Theme
HTML 5 markup
Theme options
Mobile responsive
Various colour choices
Theme customizer to add widgets
Custom background settings for images or different colour
Landing page options
Custom header options for navigation menu and logo
Pre-installed Genesis Author Pro plugin
Shortcodes available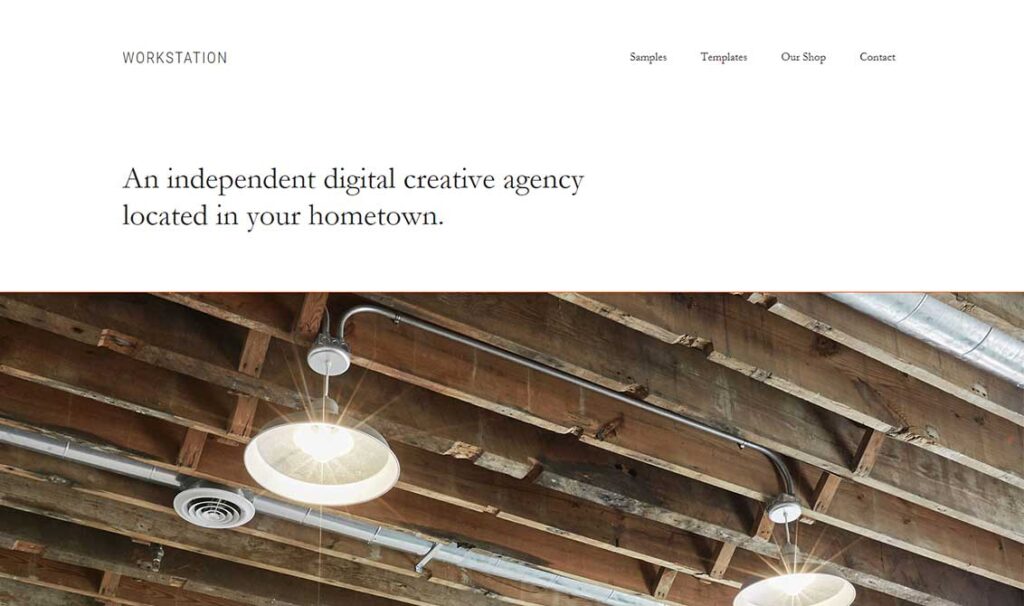 Workstation Pro Theme is one of the best multipurpose Genesis child themes available for bloggers, freelancers and all types of businesses. In this article, I have discussed more than 50 child themes but this theme single-handedly beats each theme.
Key Features Of Workstation Pro Theme
Genesis Theme Settings
Custom Frontpage background upload options
Layouts: Full Width, Sidebar on left/right
Multiple Colour options
Custom header image uploader
Genesis User Profile Widget
WordPress Navigation menus support
4 Widget sections on the homepage
Genesis Widgets: Featured Page, Featured Posts, Text widget, Recent comments
Landing page, Blog page, and Archive page template
Excerpt and Full Page options
colour selector
Custom background colour
column classes support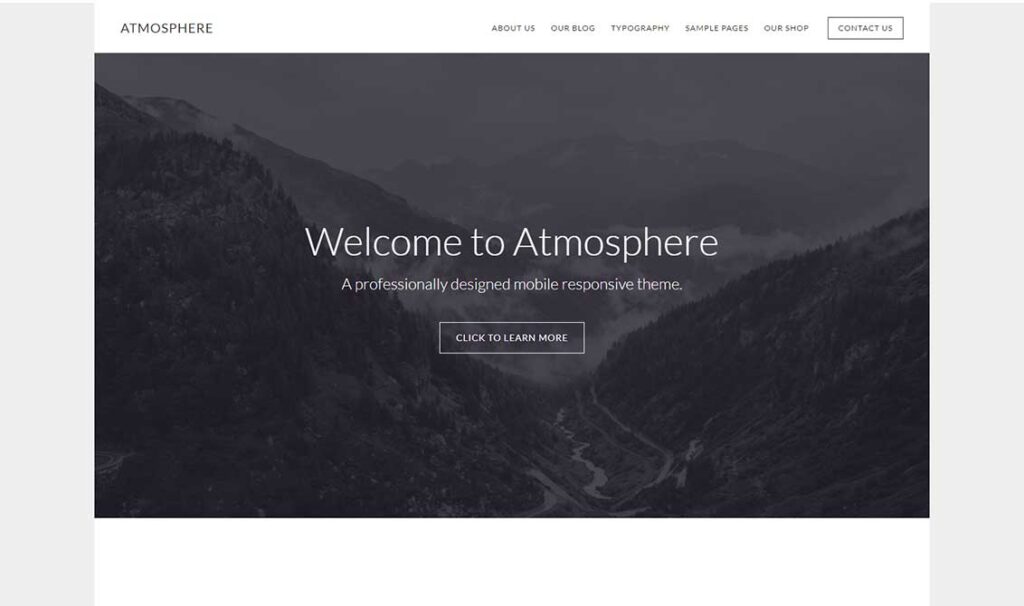 The atmosphere pro theme has a boxed layout and a gorgeous layout. It has been specifically created for online businesses. This business theme has a big image under the navigation area. It is an editable part that you can edit to specify the type of service you are offering.
Below the fold, you will find a social counter that shows the number of Facebook, Twitter, Pinterest and Instagram followers you have.
Under the social counter, you have a newsletter subscription option. Here are some of the key features of the Atmosphere Pro theme:
Key Features Of Atmosphere Pro Theme
Custom Image Header
Background Image
Custom Background
Custom Menu
Fixed Width
Sticky Menu
Featured Images
Custom Logo (600px by 140px)
Google Fonts
Theme Customizer
Icon Font Pictograms
Threaded Comments
Theme Options
Colour options: Unlimited colour choices in the customizer.
Layout options: The Genesis Atmosphere Pro theme offers 1 layout.
Templates: Landing Page, Blog Page, Author page, Contact page, Archive page, Blog page & Landing page.
Widget options:4 Widgets on Home Page, Footer & After Post.
Navigation options:2 primary menu areas on the right side of the logo and 1 centre menu in the footer.
Plugins: Simple Social Icon, Regenerate Thumbnails, Genesis Latest Tweets, Genesis eNews Extended.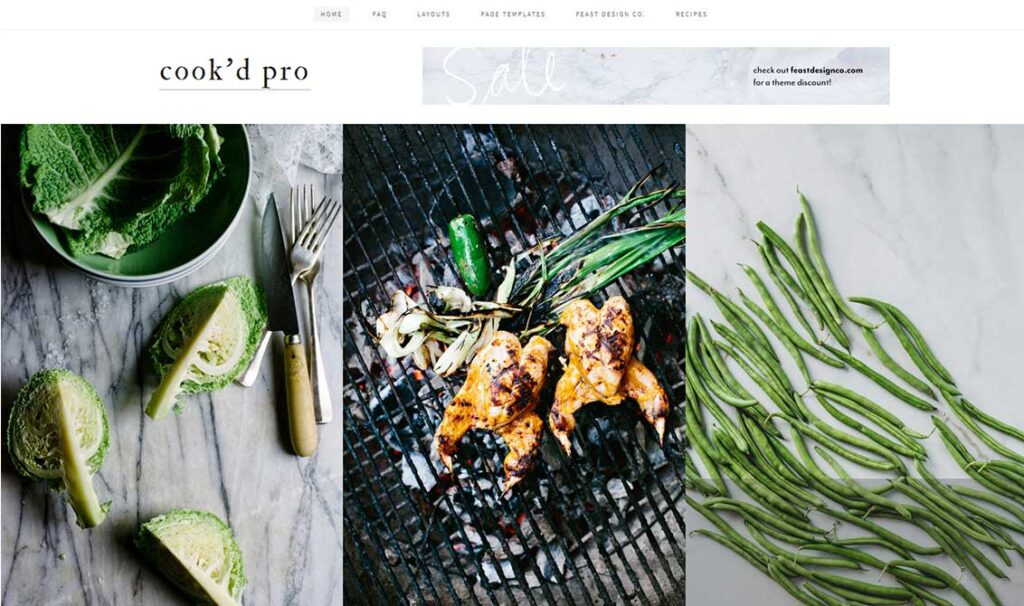 Are you a food blogger? If yes, then Genesis Cook's Pro theme could be the right choice for you. The Cook Pro theme has power-packed features.
It is a minimalist theme which gives you enough space for your content. The theme is SEO optimised which helps you rank higher in search results.
The theme has a large hero image area above the fold that highlights the featured content (food recipe).
Key Features Of Genesis Cook Pro Theme
Minimalist Theme: As I discussed earlier, minimal themes give your content enough space.
Homepage Widgets: You can have multiple categories on the homepage.
Ad Optimised: The Cook's pro theme helps you maximise your earnings with strategic ad placements. The ad places are well optimised for AdSense and Media.net Ads. You have the option to place custom banners and affiliate ads as well. Cook's pro theme is one of the best AdSense ads optimised themes for food bloggers.
HTML5 and Mobile Responsive: The layout is responsive that fits every device whether desktop, laptop, tablet or mobile. As the layout is responsive, you don't get penalised by search engines for not being mobile-ready.
WooCommerce Integration: Cook's pro theme offers WooCommerce integration so that you can sell your food products online. You can also sell courses and promote affiliate products.
Social Sharing: It has built-in social sharing buttons that can be integrated easily with contact forms and opt-in plugins.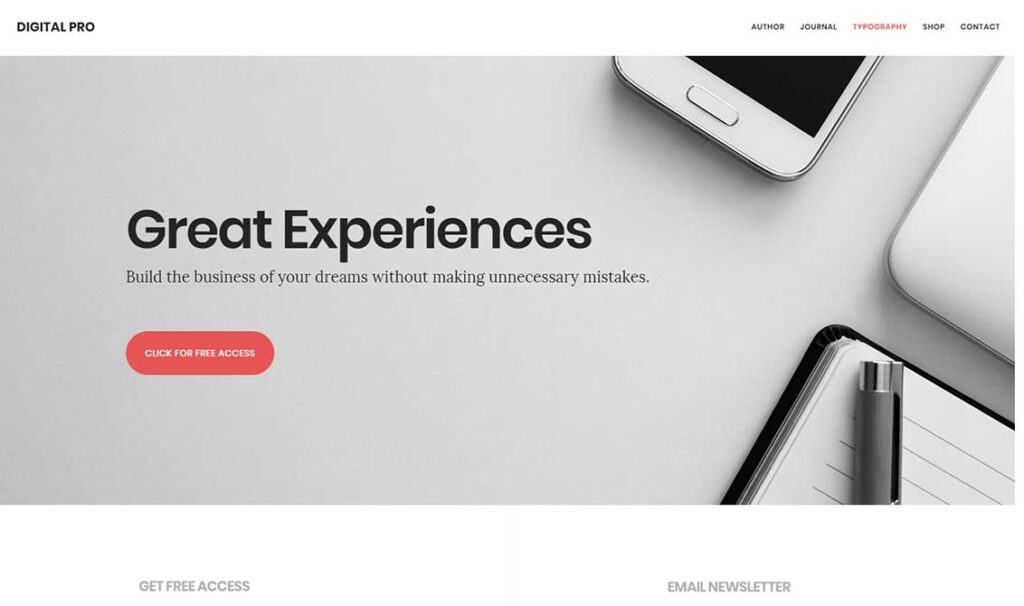 Digital Pro theme is built with the digital product in mind. Digital Pro theme is simple, clean and attractive that offers a beautiful modern design and all these features are the hooks to keep your audience engaged.
Key Features Of Digital Pro Theme
Custom Header
Background Image
Custom Menu
Full Width
Threaded Comments
Sticky Menu
Single Post Navigation
Header Logo (600px × 140px)
Developer License
Google Fonts
Translation Ready
Theme Customizer
Digital Pro Theme Options has the following features:
Colour options: You have unlimited colour choices in the customizer.
Layout Dimensions: Theme is 1200px, content area is 780px and right sidebar is 360px.
Navigation:2 Menus, right side of the header and in the footer.
Layout options:It offers 3 layout options that includes Full-Width, Content/Sidebar & Sidebar/Content.
Widget options:3 Homepage Widgets, 3 Footers, Primary Sidebar and After Post.
Plugin: Simple Social Icon, Regenerate Thumbnails, Genesis Latest Tweets, Genesis eNews Extended.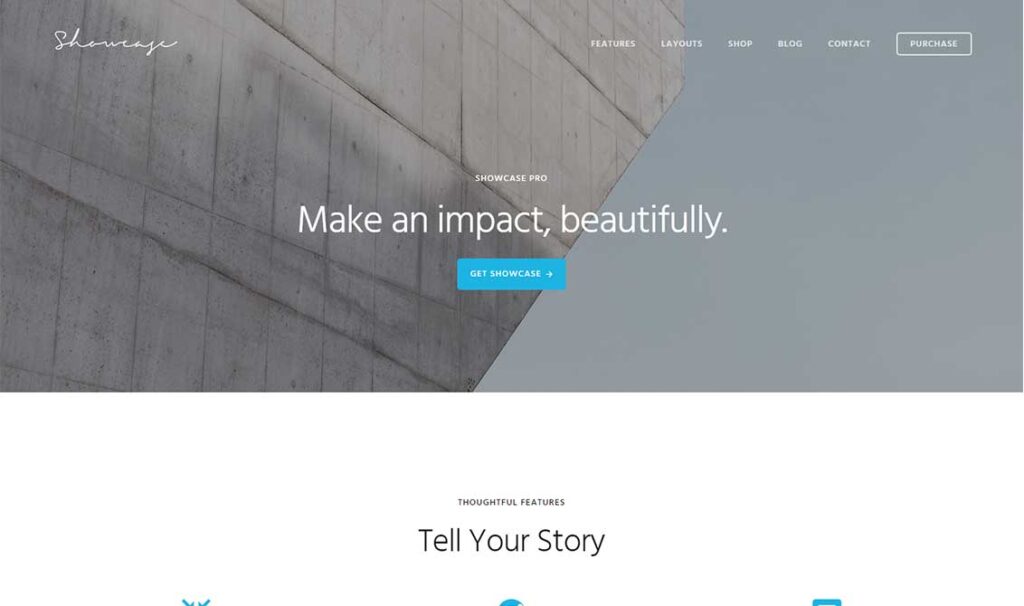 Showcase Pro Theme is a powerful theme with power-packed features and elegant styling.
It is a clean theme that offers a variety of image sizes for your blog. It looks awesome with the full-width layout. You can add multiple content columns, large featured images, bold titles and call-to-action buttons.
Key Features Of Showcase Pro Theme
Responsive layout
Custom Widgets and sections
Custom Header
Custom Menu
Contributor Menu Options
Full Width
Threaded Comments
Featured Images
Single Post Navigation
FrontPage Hero Image (1600px by 1050px)
Custom Logo (400px by 150px)
Developer License
Google Fonts
Theme Customizer
Translation Ready
Pricing Tables
The theme has an additional page template for a blog that you can use for blogging and news sharing.
A landing page template is also available that you can use to showcase your products in a proper way and increase sales.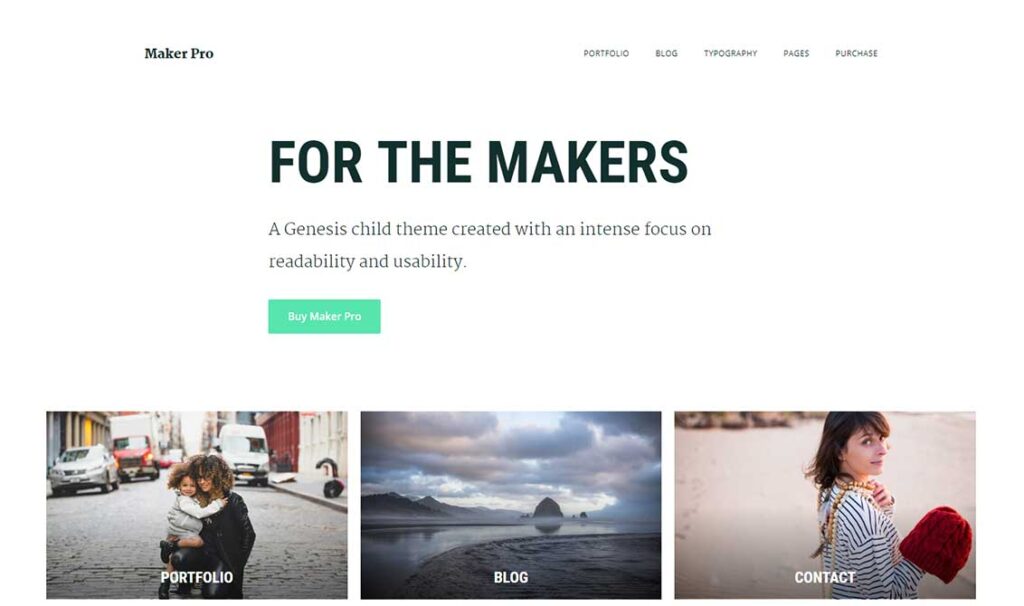 Maker Pro Theme is a third-party theme available which is basically created for freelance writers. The readability and usability have been given priority while developing this child theme.
You can customise the homepage as per your need and showcase the type of services you are offering. You can also place a link that takes you to the services page to let your audience explore services in detail.
The next widget on a home is 3 side-by-side widgets that link to the about, blog and contact pages.
Key Features Of Maker Pro Theme
HTML5 Markup
Theme Customizer
Custom Logo (400px by 150px)
Fixed Width
Theme Options
Featured Images
Contributor Menu Options
Custom Header
Mobile Responsive
Translation Ready
Threaded Comments
Layout Options
Developer License
Google Fonts
Translation Ready
Printer Friendly
Colour options: Unlimited colour choices.
Layout options: The Maker Pro theme offers 3 layouts comprise of a Full Width, Sidebar/Content & Content/Sidebar.
Widget options:10 Widgets on Home Page, Primary Sidebar, 5 Footer, After Entry.
Navigation options: Multiple Menu options, footer, primary, secondary and more.
Plugin Options: Simple Social Icon, Gravity Forms, eNews Extended, Genesis Portfolio Pro, Genesis Latest Tweets.
Templates: Portfolio page, Blog page, Author page, Archive page & Contact page.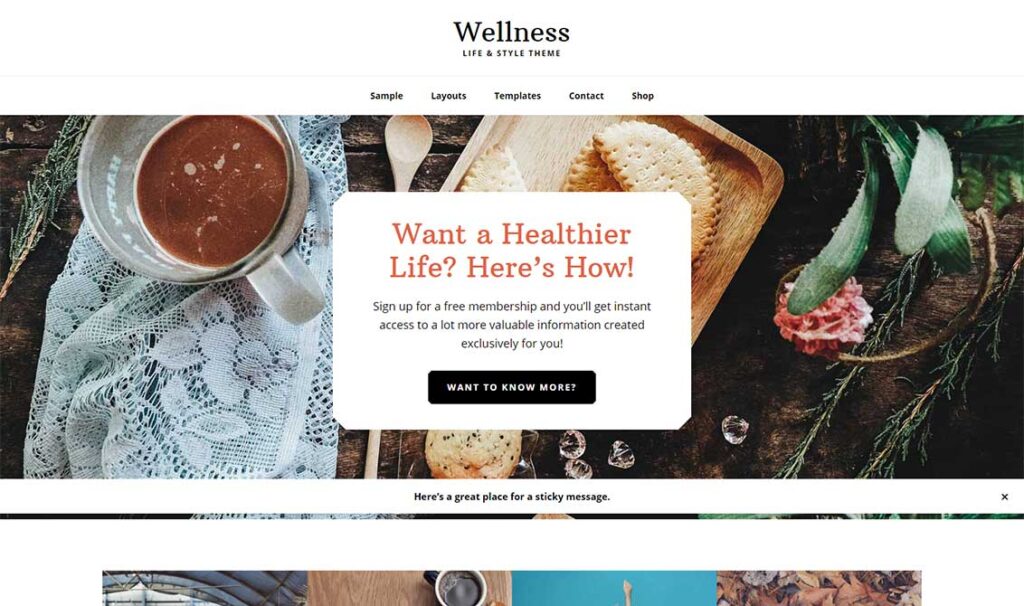 Wellness Pro is again a fantastic multi-purpose theme for StudioPress Genesis Framework.
The theme has 6 front page widget areas. You can utilise them in the way you like. The custom widget area lets you add featured posts, featured pages or custom text.
You can add text titles and place custom images for each Widget.
Key Features Of StudioPress Wellness Pro
Sticky Message: Most content-sharing websites always look for a feature to share important messages and announcements. A sticky area is by far the most effective way of sharing such messages and announcements.
Considering this thing in mind, developers created a Sticky Message widget in this WordPress theme.
The sticky message widget is not visible at top of the page but as soon as you scroll down, the sticky message widget appears at the top page. So visitors will automatically notice this section intuitively.
Footer Area: If you check out the demo, you will find that the footer has two sections: the above footer and the bottom footer area.
The above footer area is full with a single widget area while the bottom footer area contains newsletter, text and links that can be customised.
Other Features
After entry widget area below the article
Header right widget area
Full-Width Layout
Left / Right Sidebar
Customizer: Edit header, menu, background image, colours etc.
Custom Widgets: User Profile, eNews, Social icons
Page template: Blog, Landing page, Archive
Accent colours and CSS classes and column classes
Genesis Theme Options panel: SEO, and Breadcrumb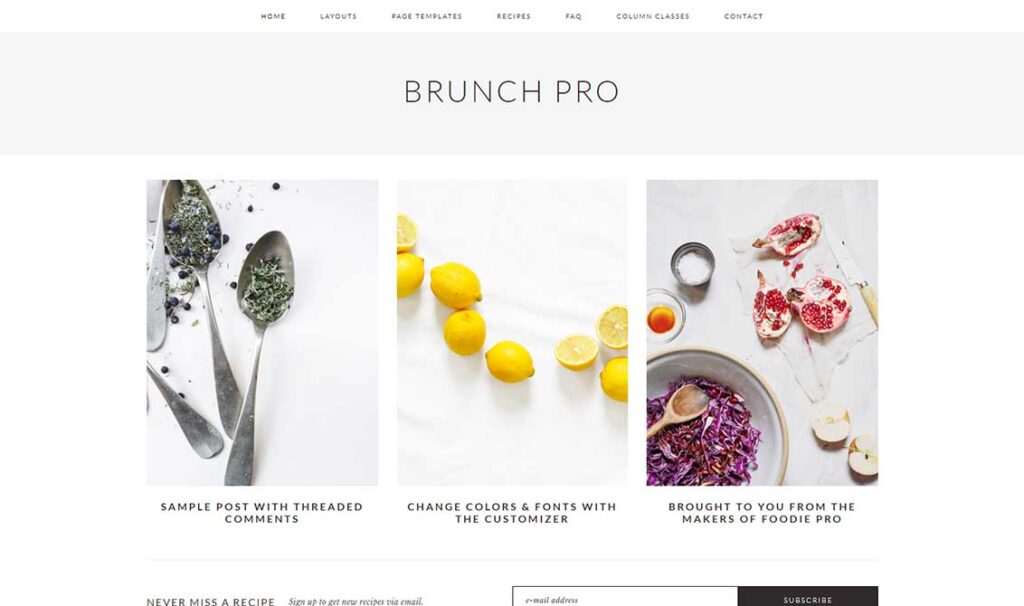 Brunch Pro Theme is an awesome StudioPress Genesis child theme. If you compare this Brunch Pro Theme to another child theme Foodie Pro, you will find Brunch Pro a little costlier as compared to some other Genesis child themes and Foodie Pro Theme.
But if you look at the features then the theme has a clean layout, beautiful design and limitless features. In my personal opinion, Brunch Pro Theme is far better than the Foodie Pro Theme.
It is a must-have WordPress theme for every blogger with any kind of niche.
Key Features Of Brunch Theme
Theme Customizer
Custom Header and Menu
Single Post Navigation
Background Image
Custom Background
Custom Logo (640px by 300px)
Full-Width Layout
Threaded Comments
Featured Images
Developer License
Google Fonts
Translation Ready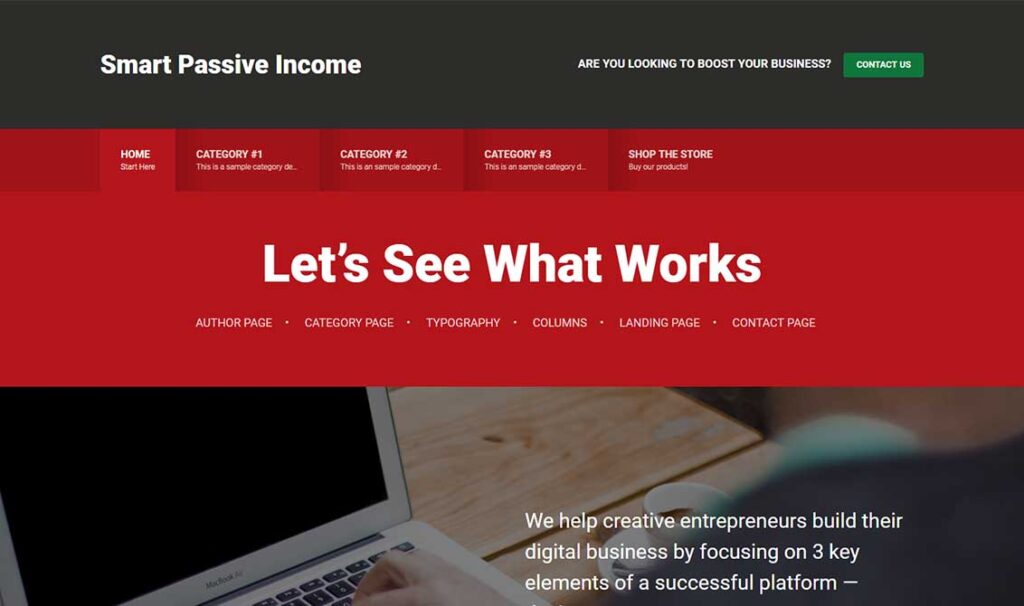 Smart Passive Income theme is one of my favourite themes. The layout of the theme is quite similar to Pat Flynn's blog Smart Passive Income. The notable feature of the Smart Passive Income Theme is the large fonts in the header, footer and sidebar.
Like any other StudioPress Genesis framework theme, Smart Passive Income Theme provides you with a theme options page where you can configure different modules for your website.
Key Features Of Smart Passive Income Theme
Accessibility Ready
Custom Header
HTML5 Markup
Landing Page
Mobile Responsive
Theme Customizer
Theme Options
Translation Ready
Layout Options
Get your site up and running with the Smart Passive Income Pro Theme today.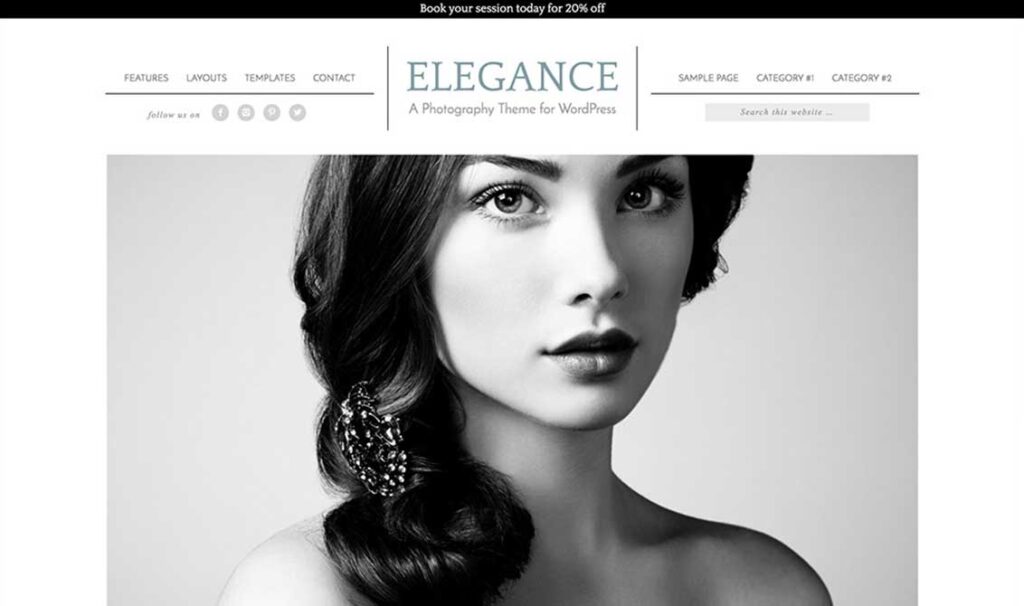 StudioPress Elegance theme is simply an elegant photo gallery WordPress theme. It is developed by Stephanie Hellwig.
This is the only Genesis portfolio theme that provides built-in portfolio features.
Key Features Of Elegance Theme
Sidebars: It has two sidebars – Primary and Secondary where you can use a number of widgets.
Header Widgets: Left header and right header widget areas.
Blog Templates: Blog posts can be used as featured images.
Custom background and colour options
Portfolio Page: Display all portfolio items.
Archive page: The archive can be categorised by category.
Genesis Portfolio Pro plugin support.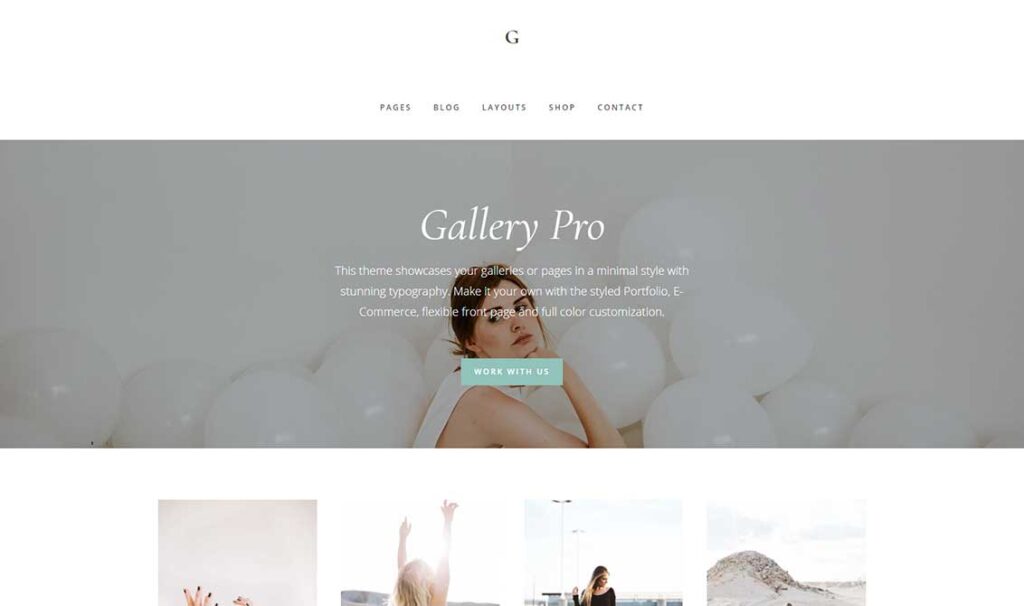 Gallery Pro theme is multi-purpose that can be used for all business website needs. Just like other Genesis themes, it comes up with lots of cool features that will make your task easier.
Features Of Gallery Pro Theme
Genesis options
Live Customizer
Genesis widgets
Custom plugins
Page templates and more
Portfolio: It has a special feature to create a portfolio section which has a multi-grid layout containing featured images. This theme is great for professionals like designers, photographers and freelancers.
E-commerce Option: E-commerce feature has become a must-have nowadays. While considering this thing in mind, the Gallery Pro theme gives you an e-commerce option that you can integrate by installing the "WooCommerce" plugin. You will find an awesome experience while running an online shop using this theme.
Gallery: It has a multi-grid gallery feature that you can use to showcase your portfolio, photography or projects.
Landing Page: a Landing page is a must-have for the success of any website or business online. It has a landing page that will help you generate leads for your business.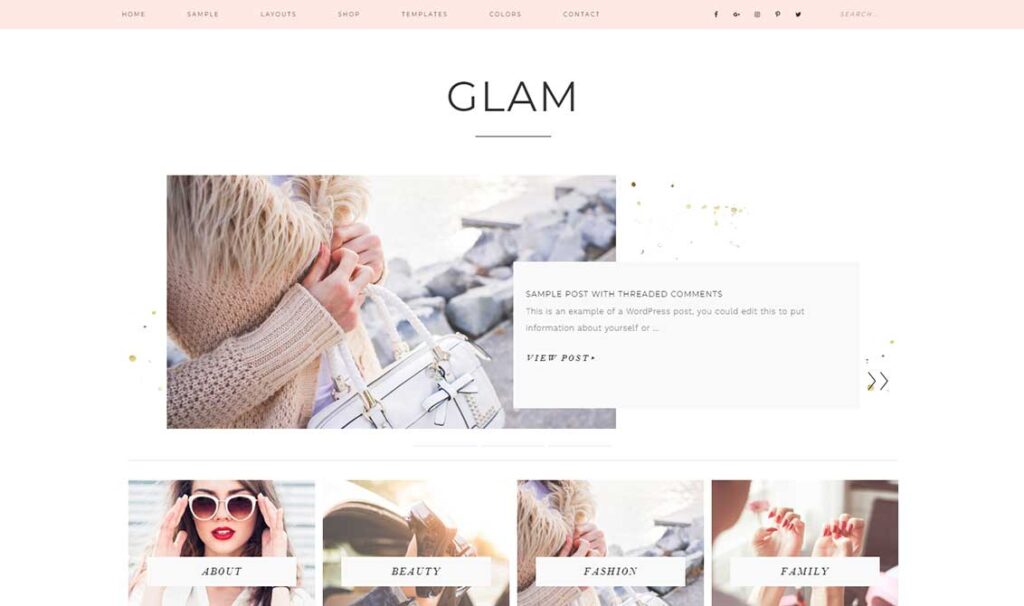 Glam Pro Theme is a third-party child theme developed keeping the e-Commerce industry in mind. It is designed by Laure Gaige and developed by Restored 316 Designs.
The Glam Pro Theme offers a variety of features to grab the attention of visitors. This is one of the best Genesis framework-based themes available for an e-commerce website.
If you visit the demo page, you will find light pink colour all over the website. But you have an option that helps you style your theme as per your need.
Key Features Of Glam Pro Theme
HTML5 Markup
Mobile Responsive
Theme Customizer
WooCommerce Ready
Unique between post ad space
Custom Categories
Custom background option
Retina-ready logo uploads option
3 Layout Options – FullWidth, Sidebar/content, content/Sidebar
2 Homepage and 1 footer widget areas
Colours skin selector
Genesis Responsive Slider
WPML plugin for Multi-lingual website
Custom Page Templates for categories and Landing Page
Instagram widgets and Jetpack Widgets
Social media Widgets
Newsletter Widget
In-Post Navigation for Next & Previous Articles
After Entry Widget
Threaded Comments
A fixed header for Menu links, Social links and Widget